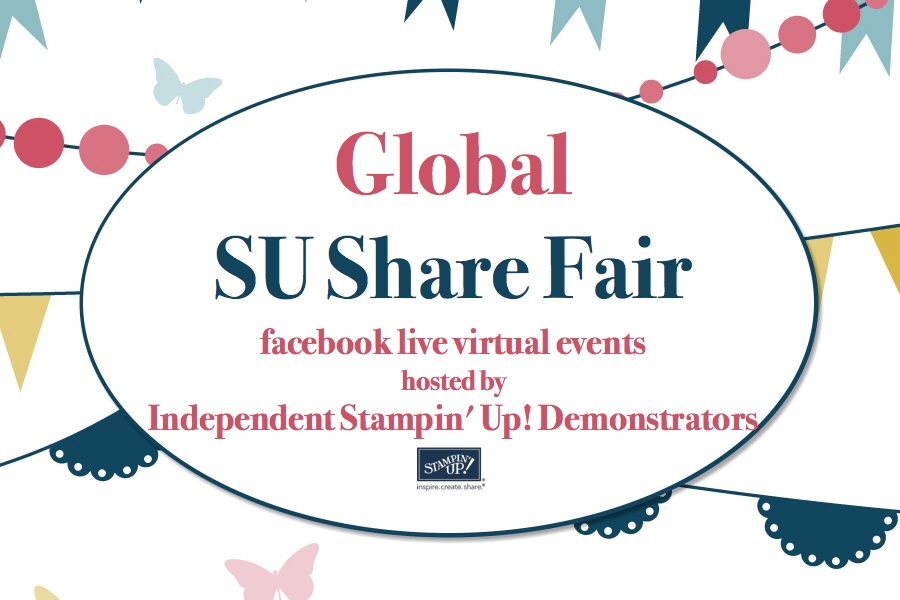 Hello and Welcome fellow crafters !
Today, I am reminding you of our 2nd Global Stampin' Up! Share Fair, this coming Saturday. It's free to attend and as my Customers, you can enjoy too.
Demonstrators around the globe are joining together for a day of 17 Facebook Lives, with contributions from Australia, UK, USA & Canada.
Here is the list of all those taking part this month :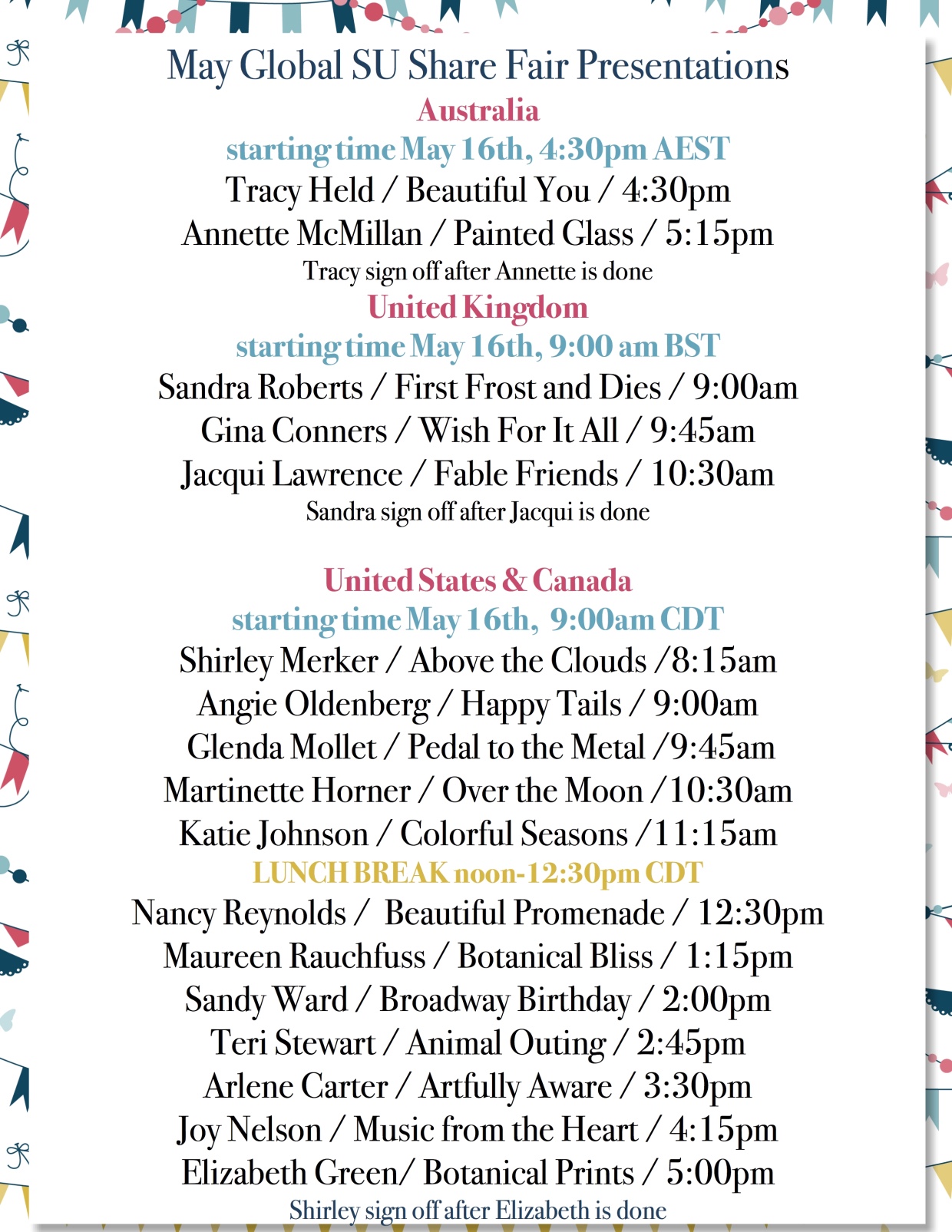 Joining the Global SU Share Fair Facebook group, where all the action is taking place, is by invitation only. Sorry, this invitation is only for customers of the presenting Demonstrators. Other Demonstrators are not allowed to join the group. In the group you will also find a chart showing all time zones for each presenter. (In the UK they start from 7:30am and will aim to finish around 11:30pm).
Each Demonstrator will be adding a short 'Live' introduction, giving details of supplies they will be using to create their project, if you wish to craft along with us. Don't worry if the times are not convenient for you, as you will be replay and to catch up.
If you decide during the presentations you wish to place an order before products retire or run out (or any other products), you will need to place directly with the Demonstrator who invited you to the event. For our giveaway this month, with every order place over £30 you will receive a FREE step-by-step colour Tutorial of ALL the projects featured today, placed by close of business on May 22nd.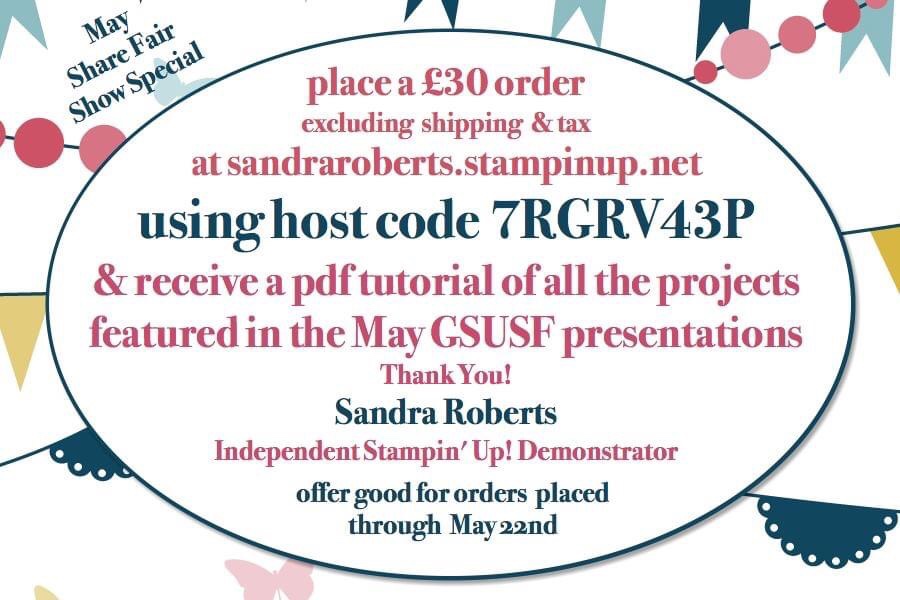 We are looking forward to another fabulous, fun-filled day of back-to-back crafting, and I look forward to hearing from you, if you would like me to add you to the group.

Thanks for stopping by and hope to see you back here soon.
Sandra
If you are in the UK, France, Germany, Netherlands or Austria and do not have a Stampin' Up! Demonstrator, I would love to help you get started ordering your favourite supplies. Whether you are shopping as a Customer, wish to Host your own Workshop / Party, or are interested in joining my Team to buy your own craft supplies at a discount or as a small business, give me a call and we can catch up, or visit my 24/7 online shop following the link below.
FREE MONTHLY TUTORIALS
The September IDEAS Tutorial Bundle featuring 'Everything Masculine' themed projects from the new Annual Catalogue and
can be FREE to you in one of these 3 ways :-

* Place a minimum £30 order and I will send it to you as a Thank You. Contact me or SHOP ONLINE 24/7 HERE.

**With a fabulous NEW addition to the Starter kit for September only, why not join my Crafty O.W.L.S. Team (Obsessed With Lovely Stamps) and download for FREE every month on our exclusive Team FaceBook page.

*** Purchase Tutorial bundle for £12  (or £10 fellow Demonstrators). 
Happy craftin'
Sandra
Contact me on : 07806 616704
For all your Stampin' Up! requirements and Special Offers, please visit : MY ONLINE 24/7 SHOP HERE.
HOSTESS CODE for SEPTEMBER is TJRPQPM2
Remember to quote this when you order from my Online Shop to receive random acts of kindness 'thank-you' from me after the end of the month.