I hope you're ready for a ray of sunshine in your life, because the Everything Is Rosy Product Medley is nearly here!
Stampin' Up! are releasing this exclusive, limited-time collection of coordinating, petal-packed products which has everything you need to let your creativity bloom.

What is a Product Medley ?
Product medleys are a new Stampin' Up! concept based on demonstrator feedback. In addition to being filled to the brim with cute, coordinating products, they have designed their product medleys to provide you with endless creative possibilities.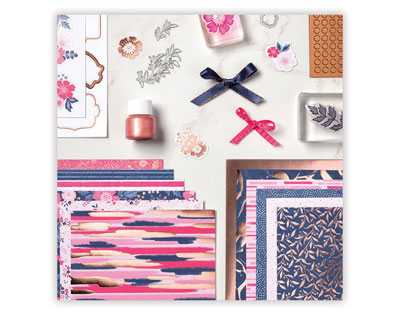 The Everything Is Rosy Product Medley is the first product offering of this kind, and everyone is excited about it and knowing Stampin' Up! are already planning to release more in the future.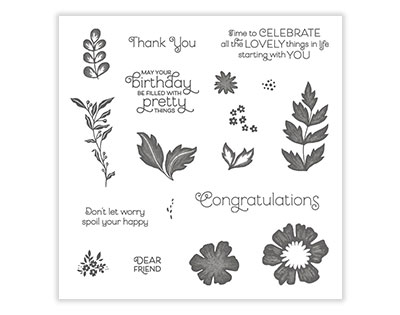 What do you get in the bundle ?
The Everything is Rosy Product Medley includes these exclusive products :
Everything is Rosy Photopolymer Stamp Set – 18 stamps
Everything is Rosy Dies – 10 Dies (largest 7.3cm x 2.5cm)
6″x6″ (15.2cm x 15.2cm) Designer Series Paper Stack – 48 sheets (8 each of six double-sided designs)
6″x6″ (15.2cm x 15.2cm) Rose Gold Foil Paper – 8 sheets
Printed die cuts – 2 sheets
Rose Gold die cuts – 4 sheets (2 each of two designs)
Rose Gold adhesive packed mirror embellishments – 60 embellishments, 1/4″ (6.4mm)
Melon Mambo 1/4″ (6.4mm) Ruched Ribbon – 10yards (9.1m)
Night of Navy / Rose Gold 3/8″ (1cm) Metallic-edged Ribbon
– 10yards (9.1m)
Rose Gold Shimmer Paint – 1/2oz (15ml)
What does it cost ?

Watch this video to see more……
When can I get ?
'Everything is Rosy' Product Medley will be available to both Customers and Demonstrators from 1st-31st May, or while stocks last. Believe me, you won't want to leave it till the last minute …….
What next ?
I hope this has whet your appetite for this special suite. Please pop back tomorrow and when I'll be sharing some images of card samples created by Stampin' Up! to help showcase the beauty of this Product Medley.

See you tomorrow !

FREE MONTHLY TUTORIALS
The April IDEAS Tutorial Bundle is full of Mothers Day, Fathers Day and Friendship projects and can be FREE to you in one of these 3 ways :-

* Place a minimum £30 order and I will send it to you
as a Thank You.
Shopping online click 24/7 Stampin' Up! Online shop but remember to quote the monthly Hostess Code at the top of this screen or in my signature block below.
**Join my Crafty O.W.L.S. Team (Obsessed With Lovely Stamps) and download for FREE every month on our exclusive Team FaceBook page.
*** Purchase Tutorial bundle for £12 (or £10 fellow Demonstrators).
Thanks again for stopping by today and I hope to see you back here soon.

Happy craftin'
Sandra

Want to know more ?
If you are in the UK, France, Germany, Netherlands or Austria and do not have a Stampin' Up! Demonstrator, I would love to help you get started ordering your favourite supplies. Whether you are shopping as a Customer, wish to Host your own Workshop / Party, or are interested in joining my Team to buy your own craft supplies at a discount or as a small business, give me a call and we can catch up, or visit my 24/7 online shop following the link below.