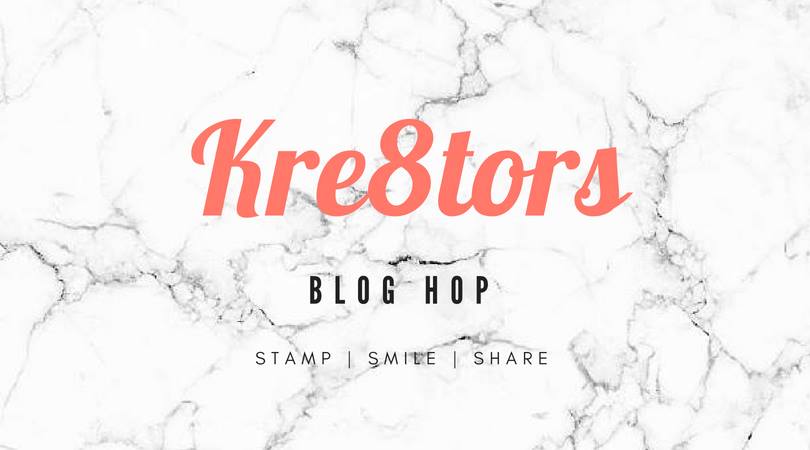 Hi and welcome back, joining myself and fellow Independent Stampin' Up! Demonstrators, sharing our creativity globally through our Kre8tors Blog Hop group. You join me here in Norfolk, UK and I'm looking forward to sharing one of my Technique projects with you today.
Techniques are one of my favourite crafting projects to share with my customers. My recent 'Totally Techniques Retreats" were a huge success, working hard in small groups to achieve some wonderful pieces and going home with a reference library to refer back to. Further dates are being scheduled ………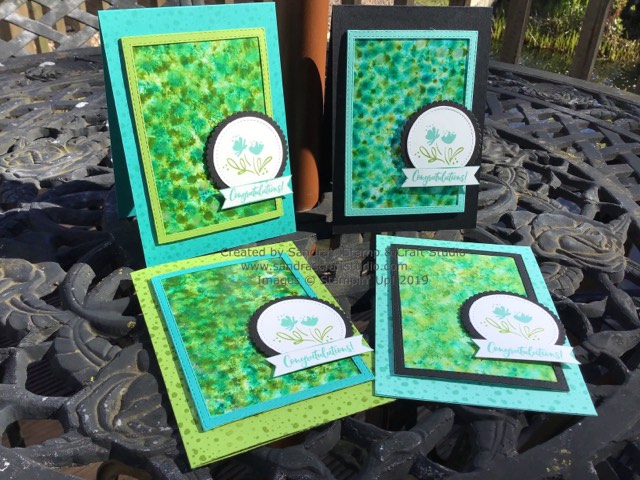 For todays 'hop' I've chosen to share a 'Polished Stone' technique. This creates beautiful backgrounds and can be very quick to create.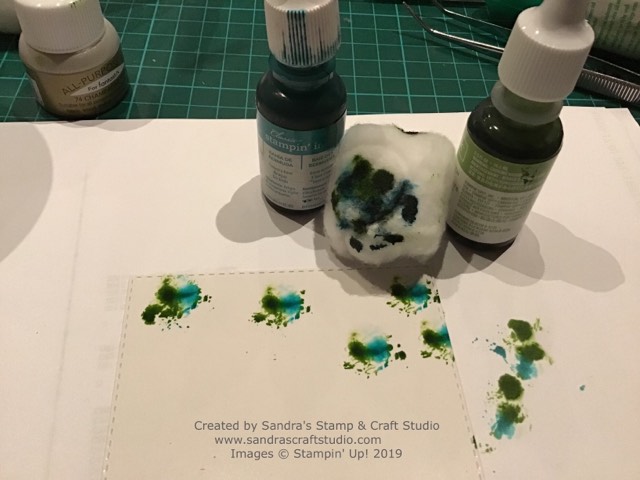 I started with a piece of glossy photographic card and die-cut size required, using Rectangle Stitched Framelits Dies #148551. When creating this technique, I would have several pieces of glossy photographic card to hand, as one piece of cotton wool will go a long way. If you need to spread the inks further, simply add some more rubbing alcohol.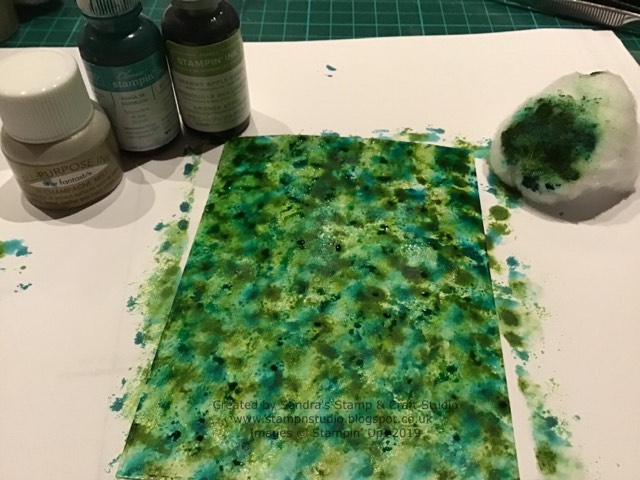 Take a cotton wool ball and add some Rubbing Alcohol (Isopropanol). Tap with a few dots of two Classic Stampin' Ink Refills, here I've used Coastal Cobana #147163 and Granny Apple Green #131156 but you could use any other colour combination. Next add one drop of Champagne Shimmer Paint #147044.
Tap this piece of cotton wool all over the glossy photographic paper. The alcohol will evaporate, leaving the ink and shimmer paint on the card, creating a 'Polished Stone' effect.
From one inking', I was able to create all four card panel size pieces. the last one I added some more rubbing alcohol and it became a lit lighter, but still fitted in my colour combination.
I cut one of each card bases in Basic Black #121688, Coastal Cobana #131302, Bermuda Bay #131286 and Granny Apple Green147014. From another piece of each coloured card, I cut two Rectangle Stitched Framelits, making a narrow frame.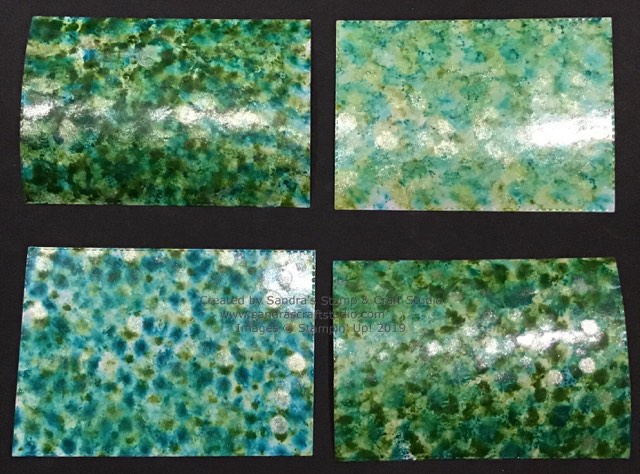 The stamp set I am using today is Delightful Day #149466, which is a 'new' product from the new Annual Catalogue from 4th June.
The splatters were stamped round the outside of each card front, in the same colour ink pad.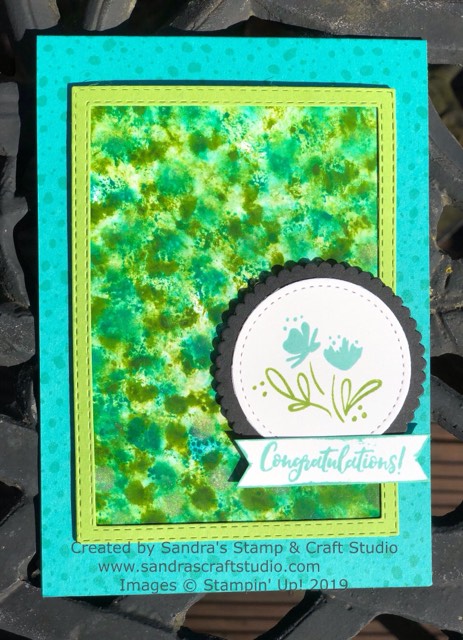 Cut four Basic Black scalloped Layering Circles Framelits #141705 and four Stitched Shapes Dies #145372 in Shimmer card #121717.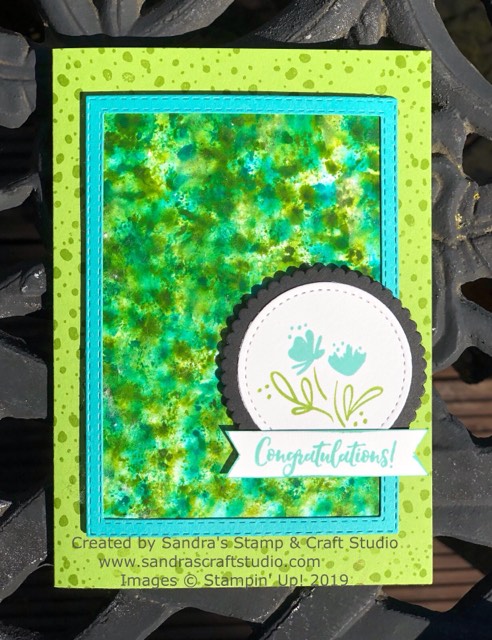 Stamp leaves in the Shimmer Circle using Granny Apple Green ink pad and then place the Coastal Cobana flowers on top, with a small gap between stems.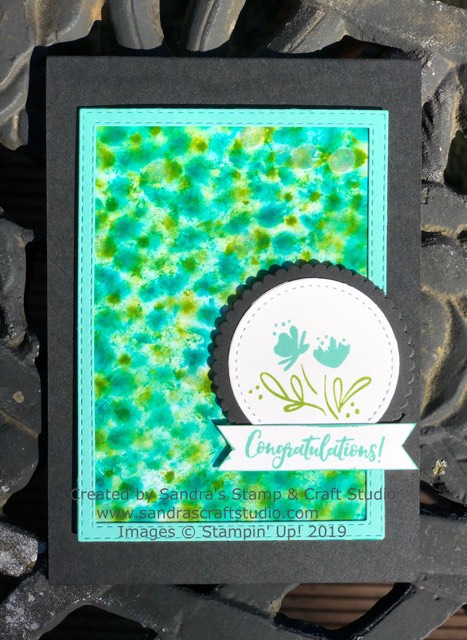 Sentiment is stamped on a scrap of Shimmer card using Coastal Cobana ink.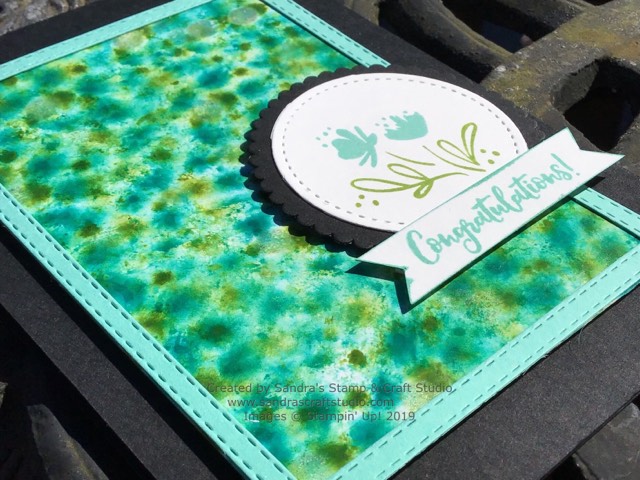 I hope you have liked my technique share today, one of my many favourites. Before you 'hop' along to Jacqui's Blog to see her lovely projects, I would love if you can leave me a quick comment below and also add any techniques you would like to see me feature on here in the future.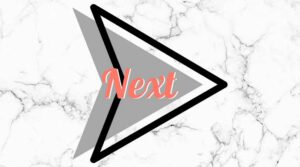 This month's participant list :-
Sandra Roberts (UK) *** YOU ARE HERE ***
FREE MONTHLY TUTORIALS
The May IDEAS Tutorial Bundle is full of Wellness & Healing, including Hello, Sympathy & Get Well Soon, to mention just a few. These tutorials can be FREE to you in one of these 3 ways :-
* Place a minimum £30 order and I will send it to you as a Thank You.
Shopping online click 24/7 Stampin' Up! Online shop but remember to quote the monthly Hostess Code at the top of this screen or in my signature block below.
**Join my Crafty O.W.L.S. Team (Obsessed With Lovely Stamps) and download for FREE every month on our exclusive Team FaceBook page.
*** Purchase Tutorial bundle for £12 (or £10 fellow Demonstrators).
Products used today :-
Thanks again for stopping by today and I hope to see you back here soon.
Happy craftin'
Sandra
Want to know more ?
If you are in the UK, France, Germany, Netherlands or Austria and do not have a Stampin' Up! Demonstrator, I would love to help you get started ordering your favourite supplies. Whether you are shopping as a Customer, wish to Host your own Workshop / Party, or are interested in joining my Team to buy your own craft supplies at a discount or as a small business, give me a call and we can catch up, or visit my 24/7 online shop following the link below.